The use of innovative clamping systems to optimize the moldmaking production process requires consideration of five factors based on Industry 4.0 principles.
#tips #workholding #analysis
Grob Systems Inc.'s automation technology enables flexible adaptation to capacities and guarantees coordinated pallet handling.

The NCSIMUL machining module now includes automation functionality that provides wider control for jobs across various devices by communicating with distant servers.

Customers and partners of Big Kaiser Precision Tooling teamed up to generate a $7,283 donation to benefit the National Robotics League (NRL).

9 MINUTE READ
Michigan mold and die maker puts its engineering expertise to work for each customer.
#profile
Mitsubishi Electric Corporation offers its laser automation solution, a multifunctional, fully integrated system that is capable of controlling the entire production process from loading, cutting, sorting, and unloading through to the storage of finished parts.

FANUC introduces the CRX-10iA and CRX-10iA/L (long arm version) collaborative robots that set new standards in terms of ease of use, reliability and safety.
#safety
As ongoing advances enable machines and humans to get better at talking to each other, eventually more shops will become more automated. If your shop hasn't yet looked into upping its automation game, here are five reasons why you should.

News and reviews from the American Mold Builders Association (AMBA) and Canadian Association of Mold Makers (CAMM), and The Mold Technologies Division of the Society of Plastics Engineers (SPE).

Although there is constant talk about Industry 4.0 and automation, many smaller manufacturers I speak with are challenged with understanding and implementing these concepts. I came across this white paper that breaks down how to use available networking and automation technology to compete like the big guys.

The Fastems RoboCell One features adaptable and flexible machining, particularly heavy workpieces within batches of different sizes.

9 MINUTE READ
Fully automated, high-speed hard milling centers saved moldmaker time, money, handwork, allowed wider-range of EDM burns to be achieved.
#fiveaxis
VIDEOS
Cooper Tires speeds tire-mold production with advanced CNC machining and automation technologies.

Here is a review of some notable moldmaking innovations and advancements on display at NPE2018.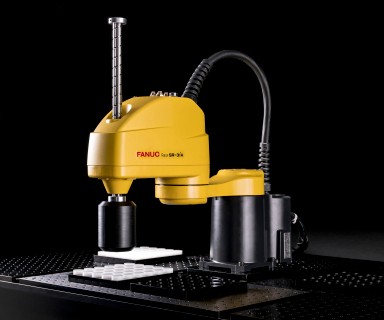 The SR-3iA and SR-6iA SCARA robots from FANUC offer the same intelligence and reliability that is available on all FANUC robots.

7 MINUTE READ
Making the right decisions during eight key mold design phases will avoid automation problems and save money on price, installation and operation.
#auxiliaryequipment #moldingequipment
MC Machinery Systems will display new automation and machines at FABTECH 2019.

Automation can be key for improving overall mold manufacturing operation, so check out these automation products from supplier companies MC Machinery Systems, Schunk, Fastems and Shop Floor Automations.

Schunk will be assembling an extremely versatile gripper line directly in the U.S., meaning a faster response time and better end results for the company's customers.

X-Cell Tool and Mold discusses how automation is used to increase machine utilization and reduce costs.

During Manufacturing Days at the factory in Davis, CA, October 8-9, DMG MORI will present the latest developments and innovations in horizontal machining, automation, additive manufacturing and digitization.

For Del-Tool Co. Inc., a seasoned crew using automation, five-axis CNC and shop management software is the edge needed for continued success.