Taking advantage of new business opportunities may require you to think about things differently.
#editorial
It's relationship and experience and not shop size that allows the Enterprise Mold team to tackle some nontraditional mold projects—at least they are nontraditional for the shop's Windsor location.
#consumer
Business combination with special purpose acquisition company (SPAC) one to be completed by the end of summer 2021.
#3dprinting
Plastikos Medical expansion slated for March 2021 is expected double the size of the current ISO-7 cleanroom, and fit 15 additional medical injection molding machines.
#medical
2 MINUTE READ
MoldMaking Technology Editorial Director Christina Fuges brings Ben Lampron of Metro Mold & Design to this MMT Chat to discuss a book to help our next generation jumpstart their futures while helping our seasoned pros attract and retain young talent by focusing on the whole person. This episode is brought to you by ISCAR with New Ideas for Machining Intelligently.

Today's MMT Chats guest is Mark Gauvain, a manufacturing and tooling business development executive (and one of MMT's Editorial Advisory Board members) with some insight to share on a topic I've been asked about recently … NDAs. This episode is brought to you by ISCAR with New Ideas for Machining Intelligently.
#leadership
The recent acquisition of Formteknik by MGS Mfg Group brings expert precision round work capabilities to the table that expands the company's overall capabilities and customer service.

Developing a strategic view for your moldmaking business is the first step in building an appropriate business model.
#industry40 #basics #sales
The year 2020 increased financial strain on businesses. As we recover, here are a few recommendations to put a plan in place, so your team can get through the next set of challenges.

Mold builders must understand fraud so they can reduce the risk and improve profitability and efficiency.

Maybe it's his passion for scuba diving, but this operations manager for X-Cell Tool and Mold loves digging deeper into relationships and mold projects. Brian Dippel chats with me about moldmaking, molding, business management, work ethic, employee-centered culture, expansion, customer relationships, deodorant sticks, acquisition and yes, scuba diving.

9 MINUTE READ
At this time every year, a call for nominations goes out to industry looking for new members to become leaders by serving on the Board of Directors of the Mold Technologies Division of the Society of Plastics Engineers. And every year we hear the same question in return, "What's in it for me?"

VIDEOS
For this MMT Chat, my guests hail from Omega Tool of Menomonee Falls, Wisconsin, who share their journey with using enterprise resource planning (ERP)—and their people—to solve their schedule and capacity load monitoring challenges.

For this MMT Chat, my guest is Charles Daniels CFO of Wepco Plastics in Middlefield, Connecticut. He is also one of MMT's newer Editorial Advisory Board members. He shares his insights on the role of social media in manufacturing, how to improve the "business" side of a small mold shop, continually developing culture and an update on Wepco's COVID outreach.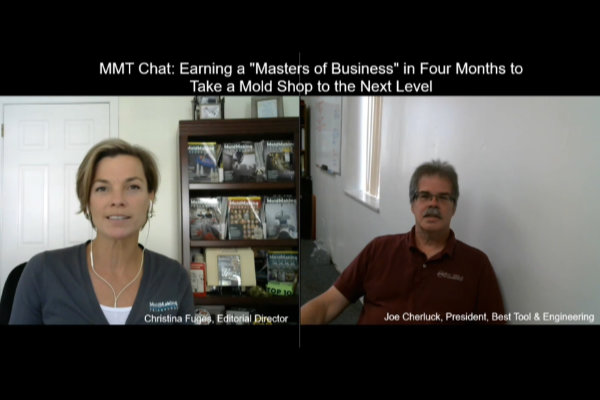 MoldMaking Technology Editorial Director Christina Fuges chats with Joe Cherluck, President of Best Tool & Engineering about transforming his mold shop into a mold business with a free "masters of business" that covers managing growth, money metrics, leadership, marketing, sales and negotiation.

2 MINUTE READ
The chief financial officer for a small mold builder/molder offers pointers on how to prepare for a tax audit.
#editorialboardinsight
MoldMaking Technology Editorial Director Christina Fuges chats with three team members of Eden Tool Company and Eden Manufacturing to learn the "details" about how this mold builder also became a manufacturer of engineered medical components.
#sales #medical #fiveaxis
Just because you missed the live stream of MoldMaking Technology's first two sessions on IMTS Spark, doesn't mean you need to miss out completely because both sessions are now available for viewing on-demand.
#imts #education
MoldMaking Technology is all about "What's New and What Works in Mold Manufacturing." What is your business all about, and does your digital presence match?
#editorial #marketing
New production, service and training facility in Loveland, Colorado, ramps up 3D modeling and mold sampling capabilities in order to deliver comprehensive, multidisciplinary guidance solving application needs.

Moldmaking is a community based on relationships that help sell the services each mold builder provides, and here's why.

From a hot rod hobby, medical molds and shop performance to technology extremes, key relationships and a growth strategy, it's obvious details matter at Eden Tool.